Get ready to double the delight with La Donuteria's latest irresistible offer! We are thrilled to announce our special promotion: "BUY 5 DONUTS - GET 1 FREE" and "BUY 8 DONUTS - GET 2 FREE." It's our way of adding a little extra joy to your day!
Hello, Donut Lovers!
At La Donuteria, we believe there's no such thing as too many donuts. Whether you're sharing with friends, treating the family, or just indulging in a little self-love, our donuts are the perfect pick-me-up. And now, for a limited time, you can enjoy even more of our delicious donuts with this special offer.
How it Works:
Buy 5, Get 1: Simply purchase five donuts, and we'll treat you to one more – on the house!
Buy 8, Get 2: Feeling extra hungry? Buy eight, and you'll get two additional donuts for free!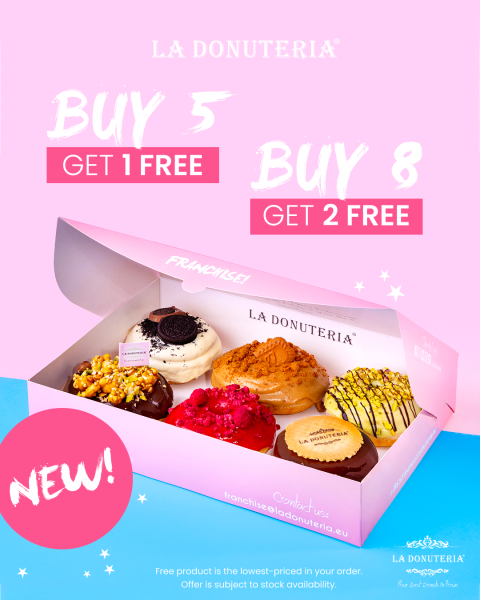 Remember, the free donuts will be the lowest-priced ones from your selection, ensuring you get the best deal possible.
We know times are tough with rising prices and everyday challenges. That's why we've launched this campaign – to bring some sweetness into your life without weighing down your wallet. It's our little gesture to say thank you for your continued support and to spread some happiness in the best way we know how – with donuts!
So why wait? This offer is available while stocks last, so head over to your nearest La Donuteria and make the most of this fantastic deal. Share the love, spread the joy, and enjoy the deliciousness of our handcrafted donuts.
Can't wait to see you there!