Award: The 10 Best Food & Drink Franchise to Open in 2022 by Insights Success
If you happen to be indecisive which franchise you should open in the near future, you should not look any further! We are eager to announce that La Donuteria has been chosen as one of the hottest franchise brands you should open in the year of 2022, according to a prestigious business and franchise magazine "Insights Success".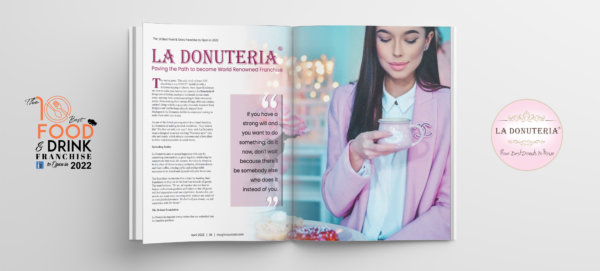 Despite the ever-growing competition in the Food & Beverages segment, our sweet donut love-brand has proved to the harshest critics that we have what it takes to become a world renowned franchise. The award highlights not only the amazing taste of our donuts that reflect the ingredients of the highest quality that are carefully selected for each recipe, but also the overall aesthetics of the products that you can almost taste and smell just by looking at them. The acumen, precision and persistence behind the management of La Donuteria Group is the very essence that is responsible for its sustainable growth and satisfied customers. "We value this award very much as we consider it to be a reflection of our efforts we put in this brand day-by-day so that we deliver the most amazing experience to our customers and our franchise partners too." said Matus Tomasik – International Expansion Manager at La Donuteria Group.
Insights Success is an archway that caters to Entrepreneurs' quench of technology and business updates which are currently ruling the business world. According to their own words, Insights Success is ceaselessly providing the best platform for leading companies, which aids indefinite progress while creating meaningful learning experiences for the visitors and invaluable brand awareness for the clients.

Read the full article here: Insights Success Magazine